Biting Commentary
Lawyer Prophylactics: When Getting Un-Screwed Is Not an Abortion
By Richard B. Barger, ABC, APR
Originally Posted
Updated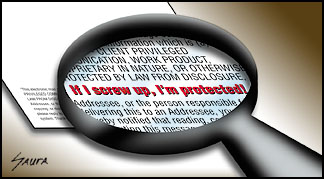 "This electronic mail message contains CONFIDENTIAL information which is (a) ATTORNEY - CLIENT PRIVILEGED COMMUNICATION, WORK PRODUCT, PROPRIETARY IN NATURE, OR OTHERWISE PROTECTED BY LAW FROM DISCLOSURE, and (b) intended only for the use of the Addressee(s) named herein. If you are not an Addressee, or the person responsible for delivering this to an Addressee, you are hereby notified that reading, copying, or distributing this message is prohibited. If you have received this electronic mail message in error, please reply to the sender and take the steps necessary to delete the message completely from your computer system. Thank you."

… Disclaimer from a lawyer's email message

"The information contained in this e-mail message and any attachments thereto ('e-mail') is sent by an attorney or his agent and is intended to be confidential and for the use of only the individual or entity named above. The information may be protected by attorney/client privilege, work product immunity or other legal rules. If the reader of this message is not the intended recipient, or an employee or agent responsible to deliver it to the intended recipient, you are notified that retention, dissemination, distribution or copying of this e-mail is strictly prohibited. If you have received this e-mail in error, please immediately notify us by telephone [phone number deleted to prevent further embarrassment] or by e-mail reply, and immediately and permanently delete this e-mail message and any attachments thereto. Thank you."

… Another one

"CONFIDENTIALITY NOTICE: The information contained in this facsimile message is attorney privileged and confidential information intended only for the use of the individual or entity named above. If the reader of this message is not the intended recipient, or the employee or agent responsible to deliver it to the intended recipient, you are hereby notified that any dissemination, distribution or copying of this communication is strictly prohibited. If you have received this communication in error, please immediately notify us by telephone, and return the original message to us at the above address via the U.S. Postal Service. Thank you."

… Disclaimer from a lawyer's fax cover sheet
Whew.

Tell you what. I hereby give you permission to read, copy, and distribute this commentary, the above disclaimers notwithstanding. Okay? It'd be nice if you gave CornerBarPR credit -- all right, I guess I insist you give CornerBarPR credit -- but shout and publish it to the four winds if that turns you on.

Email disclaimers, printed warnings on faxes and other correspondence: If you weren't the intended recipient -- if the lawyer or his staff screwed up -- you've been put on notice of confidentiality.

It helps establish the legal "exception" of information sent by accident by underpaid, poorly trained copy room personnel and blurry-eyed attorneys working on client materials at 3:00 a.m., then faxing them out to the wrong party.

Seems the lawyers have established a little protect-me-when-I-goof insurance that covers them and their profession. Such mis-sent information, the attorneys tell me, cannot be introduced as evidence against the sending party or his client … although nothing but a rather extraordinary personal and professional ethic can prevent the recipient from knowing what the documents actually said.

Just add a few initials to the lawyer's standard professional designation: J.D., L.L.M., C.Y.A.

Be Sure to Use Protection

That's a standard many careless PR folks would love: If I screw up, I'm protected!

Let's get real: If I do something by oversight in my PR practice, do you think there's a chance in hell that some "Well, I tried" disclaimer will get me off the hook with a client who thinks he's been damaged by my carelessness or stupidity?

Are your clients generally that understanding?

Oh, maybe the first time, if you're forthcoming and straightforward with them and apologetic as hell and maybe offer them a generous make-good of some sort.

But if you do it a second or -- good grief! -- a third time, there's not a legal disclaimer anywhere that's sufficiently fireproof to protect your ass from the flames justifiably coming from the angered client.

If they choose not to be nice about your mistake, you don't have the lawyers' "commonly accepted practice" to fall back on.

If you pursued the client matter, claiming honest error, no harm-no foul, or shit happens, would you win? What do you think?

But, with the lawyers, not only do you have an "if we screwed up" clause attached to the email or fax or letter, but you've also signed a loophole-filled escape document called a Letter of Engagement or Letter of Agreement or Letter of Whatever Happens It's Not Our Fault that may very well be enforceable in a court of law.

This Relationship Is All About ME

These things tend to be loosely written, but -- surprise! -- one-sided. They usually outline the relationship more for informational than for contractual purposes, but, if you and your lawyer get into a pissing match, the engagement letter certainly can be used to show imputed knowledge on the part of you, the client.

At the very least, if not directly enforceable, it is a document in which you acknowledge that the lawyer or law firm has told you these things; if you signed the sucker, you certainly can be presumed to know that it is their position that nothing subsequent to that engagement letter could possibly be their fault.

While it contains loopholes, they're all keyed to the size of the attorney's butt, not to yours. They can escape if they desire, but you, well you still owe the money, no matter what the outcome.

Something go wrong? Too bad.

Can You Still Perform?

Remember that disclaimer you signed? After all, "We don't guarantee results; we only guarantee that we'll perform in a professional manner."

Did you have your client sign a similar document? Oh, come on!

And if you have any kind of agreement, I'll guarantee that it doesn't even begin to approach the level of self-preservatory language included in the lawyer's agreement.

If, per chance, it did, which one do you think is more likely to be upheld if a dispute gets as far as a court of law?

Let's take this little fantasy a bit further: What if the PR project you agreed to was for a law firm?

Oh, you poor dolt.

Your agreement versus theirs. Evaluated in a courtroom by … well, not by a former PR practitioner, that's for damn sure.

We want to think the worst about lawyers.

Why is that?

Is our collective group experience really that bad, or is it just the tales, the stories, the Biting Commentaries?

We've heard the stories: If the law isn't on your side, argue the facts; if the facts are against you, argue the law. Whatever happens, for goodness' sake, don't argue for fairness or justice, just for an outcome that favors your client.

Clarence Darrow, of Scopes monkey trial fame, has a reputation as the best trial lawyer in U.S. history, an icon to many in the profession. There are many, many stories, but one of the favorites relates to a trial tactic.

Watching His Ash

Seems the inventive Mr. Darrow would push a wire through the middle of his cigar prior to trial, then light up as the opposing counsel made closing remarks. After a while, all of the jurors would be watching the huge ash "precariously" hanging off the end of his cigar, wondering when it would fall, rather than listing to the opposing counsel's arguments.

What does this have to do with the law? Not a damn thing. But it says a whole lot about lawyers and lawyering and juries.

We've all heard the stories of stupid or unfair juries who believe that Big Companies are inherently bad and that they have deep pockets, which makes them fair game. Plaintiffs seek instant gratification: I want it NOW.

I'm a professional arbitrator for the Council of Better Business Bureaus. (They may not like my acknowledging that in this commentary; too bad.)

Far too often I have seen actions brought by consumers who just want out of their deal, whose car has developed a bad case of "note-knock" (the note is coming due, so they hear an inexplicable knock in the engine), who believe that the mere act of complaining entitles them to a decision in their favor. Unfortunately, some of my fellow arbitrators give in to this kind of warped thinking, "because the big companies can afford it."

Bullshit.

What if you're on the wrong end of such a decision?

See the problem?

People want to feel they are victims; think of hot coffee and McDonald's. Thus, the many jokes disrespecting lawyers and our system.

We've all seen emails, stories, and Internet postings about The Stella Awards, most of which go something like this:

Look at Stella's Butt, Legs, and Groin

In 1994, a New Mexico jury awarded $2.9 million in damages to 81-year-old Stella Liebeck, who suffered third-degree burns to her legs, groin, and buttocks after spilling a cup of McDonald's coffee on herself.

This case inspired an annual award -- The "Stella" Award -- for the verdicts in the most frivolous lawsuits in the United States.

What follows usually is a teeth-grinding, face-reddening, spasm-inducing description of terrible jury decisions -- decisions that are so obviously stupid and misguided that it is impossible to imagine what kinds of dirty lawyering tricks were used to bamboozle fair-minded jurors into such awful rulings.

One anonymous email I received described them thus:
January 2000: Kathleen Robertson of Austin, Texas, was awarded $780,000 by a jury of her peers after breaking her ankle tripping over a toddler who was running amuck inside a furniture store. The owners of the store were understandably surprised at the verdict, considering the misbehaving little devil was Ms. Robertson's son.


June 1998: A 19-year-old, Carl Truman of Los Angeles, won $74,000 and medical expenses when his neighbor ran over his hand with a Honda Accord. Mr. Truman apparently didn't notice there was someone at the wheel of the car while he was trying to steal his neighbor's hubcaps.


October 1998: Terrence Dickson of Bristol, Pennsylvania, was leaving a house he had just finished robbing, by way of the garage. He was not able to get the garage door to go up, because the automatic door opener was malfunctioning. He couldn't re-enter the house because the door connecting the house and garage locked when he pulled it shut. The family was on vacation. Mr. Dickson found himself locked in the garage for eight days. He subsisted on a case of Pepsi he found, and a large bag of dry dog food. Mr. Dickson sued the homeowner's insurance claiming the situation caused him undue mental anguish. The jury agreed to the tune of half a million dollars.


October 1999: Jerry Williams of Little Rock, Arkansas, was awarded $14,500 and medical expenses after being bitten on the buttocks by his next door neighbor's beagle. The beagle was on a chain in its owner's fenced-in yard, as was Mr. Williams. [In the yard, not on a chain.] The award was less than sought because the jury felt the dog may have been provoked by Mr. Williams who, at the time, was shooting it repeatedly with a pellet gun.


May 2000: A Philadelphia restaurant was ordered to pay Amber Carson of Lancaster, Pennsylvania, $113,500 after she slipped on a soft drink and broke her coccyx. The beverage was on the floor because Ms. Carson threw it at her boyfriend 30 seconds earlier during an argument.


December 1997: Kara Walton of Claymont, Delaware, successfully sued the owner of a nightclub in a neighboring city when she fell from the bathroom window to the floor and knocked out her two front teeth. This occurred while Ms. Walton was trying to sneak through the window in the ladies' room to avoid paying the $3.50 cover charge. She was awarded $12,000 and dental expenses.


And just so you know that cooler heads do occasionally prevail: Kenmore Inc., the makers of Dorothy Johnson's microwave, were found not liable for the death of Mrs. Johnson's poodle after she gave it a bath and attempted to dry it by putting the poor creature in her microwave.
Oh how I wish they were true, because they make such wonderful terrible examples. However the snopes.com Urban Legends Reference Pages spoil our fun by poking holes in these faux verdicts.

Whether true or not, they strike us as believable. We want to believe them, because they reinforce our attitudes about the unfairness of our system.

What were those idiot jurors thinking? Lawyering won over justice; justice went out the window. Is society supporting victims or slick lawyering?

Clinton Gets Off

Speaking of slick lawyering, think of former President Bill Clinton. We don't like his language-parsing "is 'is' is?" tactics, but they work.

If you let the other side define the terms of the dispute, the language that will be used in the dispute … well, isn't it a communicator's dream to control the agenda in this manner?

See, those hucksters are beginning to learn some promotion tricks from our industry.

Maybe we could learn some billing, contract, agreement, and other self-preservation tricks from theirs.