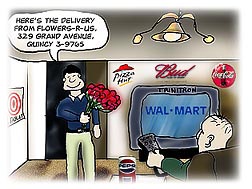 We knew it would finally come to this.

Something called "The In Crowd International" is trying to turn television into product placement hell.

Their idea is a television series that, quoting from their over-the-top release, will "literally be 'The Reality Series that Product Placement Built' showcasing the products placed in current hit films and television productions with the entire production budget financed by corporate sponsorships."


That's with the entire production budget financed by corporate sponsorships!
Heaven help us! For it's clear that the judgment -- and I use the term advisedly -- of television executives certainly won't.

Reach Out and Touch … Our Trendy Curmudgeon!

Seems they've used their "extensive email databases" to "reach out to over 4,000,000 trendsetters."

And they found me, and not Brenda.

I'll let the irony of that wash over you for a moment.

Their ambitious, complex, poorly defined plan is alternately frightening and fascinating. I'll quote liberally from their breathless materials, which frugally eschew the use of interior punctuation:

"The In Crowd TV is best described as a kinder gentler reality television series. Imagine a reality television program that's a combination of 'Sex in the City' meets 'Entertainment Tonight' add 'American Idol' and you've got a recipe for a break-out hit! Viewers tune in to voyeuristic view of the lifestyles of the rich and famous in Hollywood and their lives in front of and behind the cameras."

I think I'm going to throw up.

'Social Agents for the Affluent'

Pulling out the name of every celebrity she's ever seen across a crowded room, Cheryl Schuman, self-proclaimed specialist in product placement, lifestyle marketing events, and celebrity and media product integration, gives a star-studded billboard listing of -- get this -- "invited" celebrity participants.

Yes, and I'm going to invite Hillary Clinton, George Bush, Saddam Hussein, Mother Teresa, and Cheryl Schuman to my next pool party, too.

Even without subscribing to Contacts On Tap™, Cheryl says she has had "interest in Press coverage" from damn near everyone in the world: MTV, VH1, Access Hollywood, Extra, Entertainment Tonight, The Today Show, Good Morning America, Fox News, CNN, USA Today, The Village Voice, Time Out New York, New York Magazine, LA Weekly, Variety, Hollywood Reporter, USA Today, Daily News, Bloomberg Radio, NPR, and more.

Far be it from me to cast doubt on Cheryl's "interest" list, but I speculate that it would be a tad more accurate to say her staff has contacted each of these media, with the amount of "interest" -- to be charitable -- still uncertain.

Is it 'Big Brother'? Will I Be Able to Escape?

The confusing, ill-defined plan talks of a Playboy Mansion-style venue, with "a captive audience of over 80 full time residents throughout the production season," in which "companies can display and distribute product and create the right buzz and awareness around new products."

"Several thousands of young professionals will be attending events at the house throughout the course of the summer. … Our intention is to provide our sponsors with a premier platform to showcase their products. Exposed to the best products, our guests spread the word and create a viral branding network and buzz about your company's products and branding."

I just can't stop quoting; this stuff is too entertaining:

Scenesters, Fashionistas, Tastemakers

"Sponsors will be able to reach a captive audience that will touch, taste, feel and interact with their products. There is no better way than face-to-face to establish that undeniable branding presence in the mind of your targeted consumer. For special daytime events, our guest list will cater to an eclectic mix of young professionals, scenesters, fashionistas and young elite."

You know what's really amusing? Cheryl's staff thinks real people actually talk like this!

"For nighttime events our tastemakers will be setting the trends at the local venues and events. Become a sponsor and your company will be able to have signage and place merchandise throughout the house on a weekly and special event basis, along with banners, volleyball nets, beach or bath towels, mugs, cups, lighters, ashtrays, tents, outdoor bars, coolers, fans etc."

Ohhh! Volleyball nets! Ashtrays!

Only Beautiful People Need Apply

Oh, yeah, I almost forgot: They're also going to be holding a series of nightlife parties in 20 lucky cities, as they search for "the most beautiful and talented people." They don't bother to say how these particular beautiful, talented people fit into their scheme.

Anyway, they claim to have created a "strategic alliance with the hottest venues in the world."

Sure, if you pay our meeting-room and catering fee, and you mention our location on the air, we'll give you a 10 percent discount.

Some strategic alliance.

To make it all sound legit, and to attract an actual celeb or two, these folks have suckered a couple of charities into using their mansion as a "backdrop" for PSAs. They'll donate some production services.

In addition to product placements, if you really, really want to give them your money, you can sponsor "celebrity DJ's and or hosts, world renowned musical talent and performers, décor, games, merchandise, prizes, online and on premise sweepstakes, raffles, product sampling and giveaways, invitation design and mailing, raffles, and local press opportunities," as well as the Premiere Night and Wrap Party (a steal at $50,000), the Awards Ceremony/Closing Night Wrap Party, the VIP Lounge and VIP Reception/Party and VIP Press Conference and any of the local nightclub events.

Rub Elbows With the Best Boy

If you read their materials carefully, you may notice that, just in case they aren't able to snag any honest-to-goodness celebs, they've given themselves an out:

"The In Crowd takes you behind the scenes in Hollywood to meet not only today's hottest stars but also the Costume Designers, Property Masters, Hair and Makeup Artists as they share the hottest trends of Star Style!"

There we go: hair stylists and makeup artists. That'll be entertaining TV. You'll get to see someone who touched the hair of Robert Blake.

While it's tempting to say more, actually I believe these folks have done my work for me.