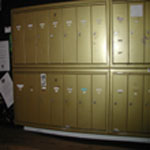 Last week we discussed the technical definition of Spam and the many wiles of Spammers. Today, your favorite barfly takes an intimate look at her inbox and shares the secrets within.
I receive about 170 email messages weekly that the average bar patron might consider to be Spam. A more sophisticated patron would consider 33 of these messages to be Spam. And, a "regular" whose name is shouted in unison as he enters the establishment would know that only eight of these messages are really, truly Spam. At the end of each of the past seven days, while sipping a martini, I painstakingly tracked each and every email received that day that wasn't either (1) official work business or (2) a truly personal message. The messages all fit into one of the five categories below:
Opt In: Yes, please! I've been waiting for this! 14 of 269 (5 percent)

Opt In: No, thank you. You've missed your mark with me. 165 of 269 (61 percent)

Personal: Good stuff. Enjoyable forwards, jokes, and other non-personal messages from people I know. 24 of 269 (9 percent)

Personal: Total crap. Total and complete waste of time, bandwidth, and electrons from people I know -- or think I know. 56 of 269 (21 percent)

Real, honest to goodness Spam. Non-opt-in, irrelevant email or worse. 10 of 269 (4 percent)
Opt In: Yes, please! These are newsletters, announcements, and online coupons that I can't wait to receive. For example, other than the fact that I nearly delete it each time before reading it because the name make me think of an untalented, sissy boy band, Palm's monthly InSync Online newsletter falls into this category. While it certainly includes marketing information, it is also full of useful tips on how to get the most out of your handheld device. What's best is that the newsletter is customizable, so you get only the information you want, in the format you want. Or, because I am a CNN junkie, I have signed up for their free Breaking News email service. I signed up for this shortly after the terrorist attacks of Sept. 11, so merely seeing the first dozen messages in my inbox caused my heart to immediately sink into my stomach. However, over the past few weeks, in addition to the ongoing news directly and indirectly related to the terrorist attacks, Breaking News messages have included announcements that Olympic officials voted to award gold medals to Canadian figure skaters Jamie Sale and Cutie Pie Pelletier and that Major League Baseball has postponed plans to eliminate teams until next year. Whew. I also look forward to coupons and sale announcements from companies I frequent. Old Navy, Gap, and Eddie Bauer regularly send announcements that include new items in their stores, coupons, and specials. Staples and Buy.com send similar announcements for less fashionable, more practical purchases like software upgrades and printer cartridges. Opt In: No, thank you. This category is made up of messages sent to me as a result of signing up for a daily joke email newsletter, an online greeting card, or similar "freebie." In other instances, I actually clicked an "opt-in" box (or, more likely, forgot to click an "opt-out" box) when making a purchase or signing up for an online newsletter. In either case, this category was the largest and made the biggest dent in my virtual trash can, because the offers sounded "scammy" or they were way off the mark from a targeting standpoint. For example, one message was for a knock-off Viagra product. (Last time I checked, I was still quite female.) Three messages were for different online dating services. (Come on, I am married with five kids! While the idea of a romantic date with a complete stranger is appealing on occasion, it doesn't really fit my current lifestyle.) Another message was for a free DVD. For no logical reason, my household is probably the only remaining one in one of the nation's highest-income counties without a DVD player. Personal: Good stuff. My bar buddies can sure come up with some great stuff. Whether it's funny QuickTime movies or off-color stories and jokes, these messages provide a shot of humor to a dull day and are a pleasure to receive. Note to my adoring public: I especially like receiving any and all photos of good-looking, scantily clad men like the one of the hunk wrapped in an American flag loincloth that began circulating in late September or the sailors on the deck of their battleship in boxer shorts -- and they weren't boxing! Personal: Total crap. Other personal contacts -- mostly obscure relatives, of course -- don't have such great taste in what they send me. Getting items like hoaxes and fake virus warnings that I have to go out and validate at Snopes and Symantec are as bad as legitimate Spam, even if they are from people that I know (and sometimes wish I didn't). Real, honest to goodness Spam. Actually, it is not a surprise that Spam -- mindless, mass-posted, irrelevant, inappropriate, invasive, unwanted, unsolicited, and sometimes fraudulent and deceptive commercial email -- is such a small part of my inbox. I've been doing this for a long time and have a pretty good sense of what's going on in the e-marketplace. Brightmail, an anti-spam software company, estimates that 12 percent of all email in 2001 was Spam. That wasn't borne out in my test week, or in my rather extensive "official" experience. Of course, it all probably hinges on a definition -- what I consider crap you may consider Spam -- but stupid, thoughtless, or even offensive personal emails don't have the commercial character to make them true Spam, at least not to this chick. So, what can we learn from the good, bad, and ugly?
When you're sending messages, target, target, target! Don't purchase, rent, or otherwise compile a list based on quantity rather than quality. If you want to reach singles between the ages of 18 and infinity, find a way to weed out the married folks. If you want to reach men to promote your all-natural alternative to Viagra, find a way to weed out the women.


Whenever you send a message to an email list -- whether it's begged, borrowed or stolen -- always tell the recipient how you received their name. The best way to do this is by including a footer at the bottom of each message that says something like: "When you recently visited Hot Undies, you agreed to receive occasional messages from our partners."


Tell recipients how to remove their names from your list. Since it's not uncommon for Internet users to have more than one email address today, be sure to include the email address to which they are subscribed to your list. Provide them with not only an email removal option, but also a Web-based one. Spammers like to offer email-address-only unsubscribe instructions because requesting to be removed confirms that the address on file for you reaches a real, live human being. Try something like: "You are currently subscribed to the Marketing Mistress newsletter as sexymomma@marketing.com. To unsubscribe, visit our site using this link."


When an unsubscribe request is received, be sure that your system provides an immediate response, whether it's Web-based or via an autoresponder. The response should confirm that they have been removed from your list and should explain when the removal process is fully complete. If there is a delay in removing a name and there is a potential that additional messages will be sent, send your apologies up front. Be sure to provide information on how to resubscribe if they've removed themselves in error or if they wish to receive your offers or newsletters at a different email address. Provide them with both customer support and technical contacts if they have further questions, comments, or concerns, or if they need assistance. For example: "We are now processing your request to remove barmaid@greatdrinks.com from our mailing list. While we're sorry to see you go, your request should be completed in approximately 24 hours. If you have unsubscribed in error or wish to resubscribe with a different email address, click here."


If you send newsletters to an email list, don't just bombard subscribers with blatant marketing messages. Provide them with valuable content, as well.


Before forwarding an email chain letter that promises a free party for you and your buddies at the bar if you get it back, a computer virus warning, or potential urban legend, check it out! Be wary of any message that:


Asks you to forward the message to everyone you know.

Specifically states that it is not a hoax or an urban legend ... it usually is.

Overuses CAPITAL LETTERS and EXCLAMATION MARKS to make a point!!!!!!!!!!!!!!

Does not include a reference to a Web site or email address.


Visit a hoax-busting site like HoaxBusters or an anti-virus site like McAfee to double-check the authenticity of a message before spreading rumors. Now I don't count my emails every week. And I don't like Spam -- true Spam -- any better than the next netster. Indeed, since I make my living from this Wired World, I'm doubtless more sensitive to misuse of Internet marketing than most folks. But Spam isn't the only problem; just because an email isn't Spam doesn't mean it's not annoying. So, whether you're sending an opt-in, permission-based email campaign announcing a new product, producing your company's weekly newsletter, or forwarding a message you received from a friend of a friend to everyone in your address book, ask yourself this before you push the "send" key: "Is the person at the other end of this message going to find value in what I'm sending them?" If you have any doubt, they may consider it Spam, whether I do or not.